I appreciate that not everyone will find "geek humour" funny. I'm sure to many it's an acquired taste. But being the confirmed geek that I am, I like it a lot. Anyone who can make a joke out of computers, coding, maths etc
and
make it funny is worthy of praise in my book. I thought I'd share some good examples I have come across in the past. If you're not a geek you might want to skip this post.
A creative use of C there I think you'll agree.
xkcd
is always a great source for geek humour, I urge you to subscribe. I have many favourites, too many to list here, so settle for this one and browse the archive at your leisure.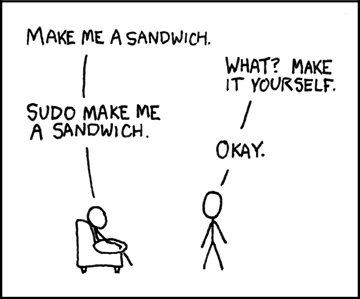 A classic if you're a Linux user, baffling if not.
OK, this one is a little more mainstream. But perhaps only geeks will realise how frighteningly real the "marketing speak" is.
You just can't talk about geek humour with out mentioning Star Wars at least once. There are lots of great examples out there, so get Googling. Here is my current favourite.
And finally, one for all the electronic heads out there. This literally made me "lol". So sue me.